Posted by : Deborah Takahashi
Tuesday, June 28, 2016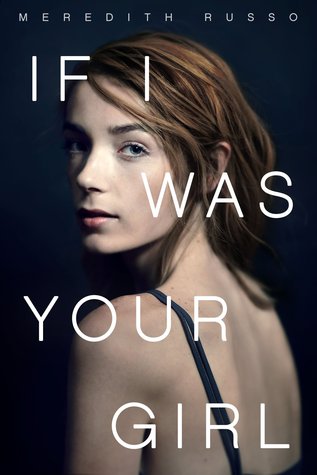 Plot Summary:
After the bathroom incident at her last school, Amanda has to decided to move in with her father and start over. Life for Amanda hasn't been easy because she has had to bury a secret that almost cost her her own life. Now that she has decided to not hide who she is, Amanda must pick up the pieces from her former to life in order to start anew. Although she and her father haven't really spoken since the divorce, he is trying to make amends for the fact that her father wasn't there at the hospital he refused to acknowledge the fact that Amanda was different. Apart from her mom and her best friend, Virginia, Amanda has to tread lightly with who she befriends for fear her secret would come out. Luckily, Amanda has managed to not only keep her secret a secret, she made news friends on the first day of school, which ave her hope that she could live a normal life. However, Amanda has decided to throw caution to the wind after meeting, and getting to know, Grant. Not only is Grant gorgeous, but there is something genuine and kind that Amanda can't get enough of. So what if she is hiding something because Grant has given her the chance to start over and, for the first time ever, be loved for who she is and not who she used to be. This is heart wrenching story of a girl who has split blood, tears, and suffered years of agony to be who she wants to be and finally realized that she deserves to be loved and to love in return.
Critical Evaluation:
I was left speechless after reading this book. It seriously took me several minutes to understand and digest how important stories like this are for the youth of today. Without giving away an spoilers, I want to stress that all of us, no matter who are or where we come from, deserve love. In fact, I want to make it a point to tell all of the readers out there that they are beautiful and that they are indeed loved. If you don't feel like you are loved than I will say this: I love you because you exist and because you are doing something incredible to make this world a better place. Amanda, in my opinion, is the most brave and forgiving character I have ever come across in YA lit and I want to personally thank Meredith Russo for having the insight, courage, and strength to tell this story. There is so much about this book that I want to talk about, but I don't want to ruin this experience for potential readers. I will say this...at some point in our lives we will all meet someone who will struggle with their identity and, as friends, mentors, and family members we need to support them and help them in any way we can. More importantly, we need to speak up for them in times of injustice and fear because, at the end of the day, we are all the same. Please stop what you are doing and read this book. When you are done, go into your community and tell everyone you know about this book. It's 2016 and it's time to have this discussion because too many precious teens are lost to the stigma, the shame, and despair. If you would like to know more about the transgendered community, please check out: http://www.hrc.org/resources/transgender-children-and-youth-understanding-the-basics
Information about the Author:
According to the author's
website
:
MEREDITH RUSSO was born, raised, and lives in Tennessee. She started living as her true self in late 2013 and never looked back. If I Was Your Girl was partially inspired by her experiences as a trans woman. Like Amanda, Meredith is a gigantic nerd who spends a lot of her time obsessing over video games and Star Wars.

If I Was Your Girl is her debut novel, but definitely not her last. When she's not busy writing she can be found reblogging pictures of cats and babies, reading high literature (and definitely not fanfiction and fantasy novels), arguing with strangers about social justice, and, of course, raising her two amazing children, Vivian and Darwin.
You definitely, absolutely should not be shy about contacting her, even if it's just to talk. She's always open to new opportunities and chances to speak with new people.
Genre:
Teen LGBTQ Fiction, Teen Issues, Teen Contemporary Fiction, Teen Romance
Reading Level/Interest:
Grades 9 & up
Books Similar to If I Was Your Girl
Freakshow by James St. James
Aristotle and Dante Discover The Secrets of the Universe by

Benjamin Alire Sáenz

George by Alex Gino
Awards & Recognition:
From
Amazon.com
:
IndieNext Top 10
Named one of the 50 Books Every Modern Teenager Should Read by Flavorwire
One of BookRiot's Most Anticipated Books of the Year
An Amazon Best Book of the Year (So Far)
"An illuminating debut guided by hope and overwhelming kindness." ―
Publishers Weekly, starred review
"A necessary, universal story about feeling different and enduring prejudices…full of love, hope, and truth." ―
Kirkus, starred review
"This is everything a coming-of-age novel should be―honest, complicated, and meaningful. Transcends the typical 'issue' novel to be a beautiful tale in its own right." ―
School Library Journal, SLJ Popular Pick
"Russo, a trans woman, writes with authority and empathy, giving readers not only an intellectual but also an emotional understanding of Amanda and her compelling story. Never didactic, this debut is a valuable contribution to the slender but growing body of literature of trans teens."
―ALA Booklist
"Poignant and rare.
If I Was Your Girl
is the type of book you read and want to immediately share, because it's too important to keep to yourself." ―
Julie Murphy
, #1
New York Times
bestselling author of
Dumplin'
"If I Was Your Girl
is important and necessary and brave, and deeply, electrically inspiring. Read this wonderful book. Just read it." ―
Jennifer Niven
,
New York Times
bestselling author of
All the Bright Places
"Will change minds and open hearts." ―
Nina Lacour
, critically acclaimed author of
Everything Leads to You
"
If I Was Your Girl
is real and raw and layered and wonderful." ―
Alex Gino
, Stonewall Award-winning author of
George
"If there's any justice in the world, we're all witnessing a YA powerhouse in the making."
―
Forever YA
"Pure magic."
―BookRiot
If I Was Your Girl by Meredith Russo