Posted by : Deborah Takahashi
Tuesday, April 12, 2016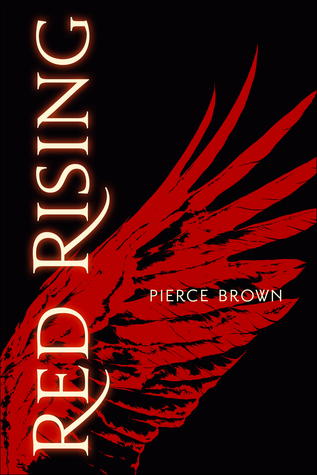 Plot Summary:
The only life Darrow has ever known is the dangerous life of a helldiver. As a helldiver, Darrow mines precious gases of Mars to help those on the surface create a world where every living creature can live on the surface. Known as the Reds, Darrow and his brothers battle the heat, flames, and pitt vipers of Mars to win a bounty of items that will benefit his clan. Although Darrow is content with his life, his father's ghost haunts him because he decided to "dance" and speak out against the the Golds; by speaking out against the Golds--you die. Although this has been going on very several hundred years, the Reds continue to what they do with no questions asked. When Darrow's wife, Eo, opens his eyes to the truth of their people, she asks him to do the impossible: create a world where their children can be free. Unfortunately, Eo pays the ultimate sacrifice that forces Darrow to make a choice: either continue living a life of servitude or fight. After being saved by the rebellion, Darrow has the opportunity to take his revenge, but ti required a lot more than dying. He literally has to change who and what he is. After infiltrating the institute that trains young Golds to become elite military leaders, Darrow not only has to work with these young men and women, he has to hide the fact that he is Red. Pierce Brown has written a story that not only defies space itself, it will take readers onto a journey where blood, whatever its color, will be spilled and the corruption that that has oppressed the blood races will be exposed.
Critical Evaluation:
As a new writer, Pierce Brown has set the bar high when it comes to amazing storytelling. Given the popularity of Dystopian fiction, Brown has created a world that is not only terrifying, but could very well be our future if we don't take care of environment and each other. Darrow's characters development is not only dramatic, but all of the trials that he had to endure have proven just how tough and tragic his character is. This story is definitely violent, but the violence portrays how this society functions. When Darrow realized that if he was going to pass his trials, he had to do one thing: conquer. If he was to complete his mission to not only be an elite military leader and savior for the Reds, he knows that he cannot let his desire to belong and be loved get in his way. What's heartbreaking is that Darrow has formed some amazing friendships with his fellows Golds, but, in the end, he has to destroy them if he wants to accomplish his mission. This story will probably try every emotion we have to not only portray the evils of humankind, but it dares to give us hope that Darrow will succeed. As Darrow progresses, it will be very difficult to see him struggle with some of the decisions he had to make for the sake of survival. Furthermore, his relationship with Mustang will pull at the heartstrings because it can only end in tears. This is a breathtaking story that will not only make your blood pressure rise, but you will be up in the late hours trying to figure out if Darrow has what it takes to succeed.
Information about the Author:
According to the author's
website
:
Pierce Brown spent his childhood building forts and setting traps for cousins in the woods of six states and the deserts of two. Graduating from college in 2010, he fancied the idea of continuing his studies at Hogwarts. Unfortunately, he doesn't have a magical bone in his body. So while trying to make it as a writer, he worked as a manager of social media at a startup tech company, toiled as a peon on the Disney lot at ABC Studios, did his time as an NBC page, and gave sleep deprivation a new meaning during his stint as an aide on a U.S. Senate campaign. Now he lives Los Angeles, where he scribbles tales of spaceships, wizards, ghouls, and most things old or bizarre.
Genre:
Science Fiction
Reading Level/Interest:
Grades 10 & up
Books Similar to Red Rising:
Ender's Game by Orson Scott Card
Ready Player One by Ernest Cline
Red Queen by Victoria Aveyard
Awards & Recognition:
From
Amazon.com
"[A] spectacular adventure . . . one heart-pounding ride . . . Pierce Brown's dizzyingly good debut novel evokes
The Hunger Games, Lord of the Flies,
and
Ender's Game
. . . . [
Red Rising
] has everything it needs to become meteoric."
—Entertainment Weekly
"[A] top-notch debut novel . . .
Red Rising
ascends above a crowded dystopian field."
—USA Today
"
Red Rising
is a sophisticated vision. . . . Brown will find a devoted audience."
—Richmond Times-Dispatch
"A story of vengeance, warfare and the quest for power . . . reminiscent of
The Hunger Games
and
Game of Thrones
."
—Kirkus Reviews
"Fast-paced, gripping, well-written—the sort of book you cannot put down. I am already on the lookout for the next one."
—Terry Brooks, New York Times bestselling author of The Sword of Shannara
"Pierce Brown has done an astounding job at delivering a powerful piece of literature that will definitely make a mark in the minds of readers."
—The Huffington Post
"Compulsively readable and exceedingly entertaining . . . a must for both fans of classic sci-fi and fervent followers of new school dystopian epics
.
"
—Examiner.com
"[A] great debut . . . The author gathers a spread of elements together in much the same way George R. R. Martin does."
—Tor.com
"Very ambitious . . . a natural for
Hunger Games
fans of all ages."
—Booklist
"Ender, Katniss, and now Darrow: Pierce Brown's empire-crushing debut is a sprawling vision."
—Scott Sigler, New York Times bestselling author of Pandemic
"A Hollywood-ready story with plenty of action and thrills."
—Publishers Weekly
"Reminiscent of . . . Suzanne Collins's
The Hunger Games
. . . [
Red Rising
] will captivate readers and leave them wanting more."
—Library Journal (starred review)
Sci Fi »
Red Rising by Pierce Brown